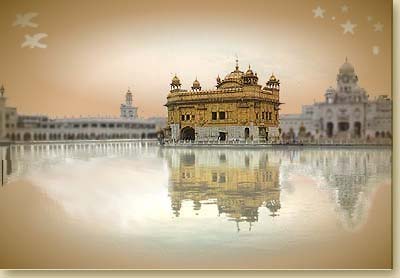 The Harimandir , Amrit sarowar

and the Akal Takht - place where sacred books of Sikhs are kept , the Granth Sahib , The Guru ka langar , community kitchen , provides free food to thousands

every day .
Guru Ram Das Niwas and other such places provide accommodations to pilgrims .The central Sikh museum , the Baba Atal Tower - the tallest buildings in the city decorated with murals and frescos , the Ramgarhia Minars are important features in the temple complex
Art Gallery named a the Martyrs Gallery : paintings of the massacre , and political leaders are displayed .
Ram Bagh gardens in the new part of the town . It was here that Maharaja Ranjit Singh built his summer palace .
Jallianwala Bagh
Where hundreds of Indians were killed and wounded during the freedom struggle - on 13 April 1919. A monument has been built . Four stone lanterns flank the pylon of the bagh , which looks like a flame. It comprises 300 piece of red stone of Dholpur quarries ( Rajasthan ) and the base and the plinth are made of pieces of granite from Banglore ( four stone lanterns , scattered over the site provide subdued lightning . At the entrance # .2 the garden is open terrace made of kota stone ( Rajasthan ) . This is the spot from where the soldiers opened fire .The terrace is flanked by two loggias studdied with Asoka Chakras . The memorial was inaugurated in 1961.
Durgiana Temple
A walk away from the complex through the narrow passageways brings the visitors to the 16th century Hindu temple of Durgiana . They are also several other important temples and mosques in the old city . The mosque of Mohammed Jan with its pure white domes and slim minarets is.
Disclaimer :Infopunjab, the Infopunjab Logo, and related marks are trademarks of Infopunjab, Inc. © 2003InfoPunjab, Inc. All rights reserved. The information on our site is subject to change anytime and we can't warranty/guaranty Infopunjab Inc shall not be liable for any errors or delays or for any action taken in reliance on the

content. The content is for information best to our knowledge