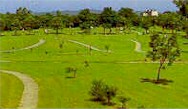 Chandigarh, capital of Punjab and Haryana . first planned city of India by a French Architect - Le Corbusier , 56 sq km .City Map on the slope of Shivalik hills . 47 sectors . Sector 17 is primarily a commercial center , major offices , shopping arcades, eating joints and prominent cultural activities .

literacy rate going strong at 80%.

Sector 16 Established in 1967 , largest Rose Garden in Asia, 27 acres has more than 17,000 plants representing 1,600 varieties, several fountains. emphasis was given on the trees of medicinal value, planted here are bel, bahera, harar, camphor and yellow gulmohar. A rose festival in the first week of March is a treat for tourists , visiting the city around this time .




Fitness Trails Sector 10 stretch of the Leisure Valley . 94 acres, 52 are seasonal flowers, sculptures artists, organizing different cultural activities etc.
Around Chandigarh

Terraced Flower Garden. Sector33 is an illuminated musical fountain. The garden host Chrysanthemum Show. It is over 10 acres.

For youngsters during the day time is the geri route , in sector 11 and 10 . Young guys and gals , dressed to kill - move around in groups , zipping on swankiest vehicles , whistling and teasing each other .
The museum and Art Gallery are yet another marvelous examples of the architect work . Exquisite pictures and sculptures increase their attractiveness . It is located in sector 10.


Panjab University . the natural charming . Almost all tourists try to capture the beauty of the Gandhi Bhavan . The novelty of the design of the university library building and the students center is very impressive.
Disclaimer :Infopunjab, the Infopunjab Logo, and related marks are trademarks of Infopunjab, Inc. © 2003InfoPunjab, Inc. All rights reserved. The information on our site is subject to change anytime and we can't warranty/guaranty Infopunjab Inc shall not be liable for any errors or delays or for any action taken in reliance on the

content. The content is for information best to our knowledge