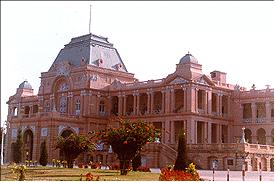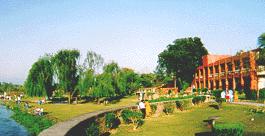 Maharaja of Kapurthala had built a lake after making a barrage on river Kali Bein. Many rivulet discharges into this river and a beautiful lake is still there. On the left side of lake lies a green forest with some wildlife. Maharaja had built a retreat called The Villa on French design on the banks of this lake. The present descendant of Maharaja uses as their residence. The lake is a beautiful home of migratory birds in winters, has been developed as a still more beautiful picnic spot with all the infrastructure facilities. The tourist can go for boating in this.
Jalandhar and Kapurthala
It is the oldest city in Punjab. It is the center of that area of the State which has maximum Non-Resident Indians. This has made it a rich and forward looking city. Jalandhar is India's foremost producer of sports goods as it is of hockey Olympians and leading football players. It is one of the biggest centers of the vernacular press in India.
Its satellite town, Phagwara is a leading industrial focal point with famous cloth manufacturing and sugar mills; because of its NRI association its cloth and drapery shops have become international shopping centers.

Another satellite town Goraya produces fodder chopping machines of all types-called toka in Indian languages. Goraya is known as the toka town of India. Now it is famous for manufacturing harvesting combines and axles of all kinds.
Kartarpur, its satellite historical town is one of the biggest exporters of quality furniture.
Disclaimer :Infopunjab, the Infopunjab Logo, and related marks are trademarks of Infopunjab, Inc. © 2003InfoPunjab, Inc. All rights reserved. The information on our site is subject to change anytime and we can't warranty/guaranty Infopunjab Inc shall not be liable for any errors or delays or for any action taken in reliance on the

content. The content is for information best to our knowledge