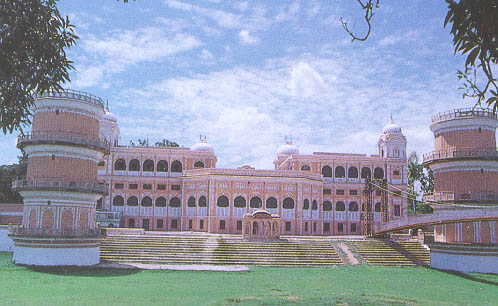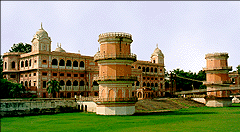 QUILA MUBARAK-MUSEUM
Contains rare cannons, swords,shields and maces , daggers of Guru Gobind Singh Ji , Sword of Nadar Shah etc. and rich collection of chandeliers from Europe.
SHEESH MAHAL ART GALLERY
Contains a rare collection of miniature paintings and paintings in kangra, Rajastan and Patiala styles, special section on Tibetan Arts and artifacts etc. And its medal gallery contains the world's largest collection of medals & decorations.
Erstwhile capital of one of India's richest princely states, city of palaces and museums, is a consumer goods emporium. Punjabi shoes, golden and silver, shoes embroidered in several patterns and colours to matchdresses, silver and gold embroidered "naalas" (or pyjama strings) parandhas(women weave them at the end of their plaits or braids) of varied shapes and designs but uniformly beautiful hand-woven head coverings, Phulkaris which can only be described as embroidered epics and its vegetarian and non- vegetarian royal cuisine are famous.

The painted chamber of Kali Devi temple on the Mall is a protected monument.
Rajpura, midway between Patiala and Chandigarh is an old Mughal outpost with a dilapidated fort. It is an important town today. Cables, tyres and a whole range of agro-products are manufactured here.

The famous Horlicks Company has a manufacturing unit at Nabha situated at a distance of about 25 kms from Patiala.
Disclaimer :Infopunjab, the Infopunjab Logo, and related marks are trademarks of Infopunjab, Inc. © 2003InfoPunjab, Inc. All rights reserved. The information on our site is subject to change anytime and we can't warranty/guaranty Infopunjab Inc shall not be liable for any errors or delays or for any action taken in reliance on the

content. The content is for information best to our knowledge