Map Of Ludhiana Click Click Here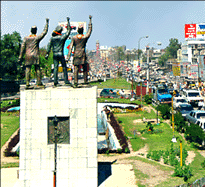 An important industrial town, Ludhiana is famous for its hosiery goods. Woolen garments produced here are sold all over the world. The famous Punjab Agricultural University is situated on the outskirts of Ludhiana. Rural Olympics of Qila Raipur, Chharpper Mela, and Kila Mela at Pau, attract lakhs every year.
Punjab's most populous metropolis, its hosiery goods are in demand in all the markets of the east and the west , which include America and Russia. Machine tools, dyes, cycle parts, mopeds, sewing machines and motor parts are also exported from Ludhiana. Home of India's leading Agriculture University, Ludhiana is also the home of fairs and the spearhead of green revolution.
Phillaur Fort, Ludhiana
Was designed by Dewan Mohkam Chand,the brave general of Maharaja Ranjit Singh facing the, then, British border along Ludhiana.it is police training center now.
Khanna, its satellite town is the Asia's biggest grain market. Kila Raipur on the outskirts of the town is the progenitor of rural sports.
Disclaimer :Infopunjab, the Infopunjab Logo, and related marks are trademarks of Infopunjab, Inc. © 2003InfoPunjab, Inc. All rights reserved. The information on our site is subject to change anytime and we can't warranty/guaranty Infopunjab Inc shall not be liable for any errors or delays or for any action taken in reliance on the

content. The content is for information best to our knowledge